Shoulder and Elbow
A "shoulder and elbow specialist" is a surgeon with specialized training from a shoulder and elbow fellowship recognized by the American Shoulder and Elbow Society. The surgeon specializes in evaluating and treating patients with all varieties of musculoskeletal and neurological disorders that affect the shoulder, arm and elbow.
Upper extremity problems that affect the shoulder and elbow are very common. Patients can develop problems as a result of traumatic injuries, sports activities, work injuries and occupational disorders, and aging and degenerative conditions. These include rotator cuff tears and impingement, shoulder and elbow arthritis, fractures of the clavicle, scapula, humerus and elbow, neurologic problems. A full spectrum of non-operative treatments including physical therapy and injections are used to treat many of these problems. Surgical treatments include the latest in arthroscopic surgery, reconstructive and revision surgery, total joint replacement, fracture fixation, muscle and tendon transfers, nerve decompression, and reconstructive surgery for brachial plexus injuries.
Types of Surgeries Performed at WCOA
Shoulder
Arthroscopic rotator cuff repair
Arthroscopic labral repair and capsular shift
Arthroscopic capsular release
Arthroscopic distal clavicle resection
Arthroscopic superior capsular reconstructions
Open Latarjet, capsular shift and other instability repairs
Acromioclavicular joint reconstructions and repairs.
Tendon transfer surgery
Arthroscopic and open nerve decompressions
Shoulder joint replacements including humeral head replacement, humeral head resurfacing, total shoulder replacement and reverse total shoulder replacement
Nonunion and malunion surgery
Fracture reduction and fixation of the shoulder and elbow including proximal humerus, glenoid, scapula, clavicle, humerus.
Elbow
Arthroscopic elbow debridement for lateral epicondylitis (tennis elbow), loose bodies, and arthritis
Ligament reconstruction for elbow instability and elbow dislocations
Nerve decompressions
Biceps tendon repair
Fracture repair for distal humerus, proximal ulna and radius
Open surgery for tennis and golfer's elbow
Radial head replacement for fracture or arthritis
Common Shoulder problems
According to the American Association of Orthopaedic Surgeons, 7.5 million people visit their doctor for shoulder and arm pain annually. More than half of these injuries relate to rotator cuff problems, which involves the tendons about the shoulder. This type of pain typically is linked to inflammation or tears in the tendons in the shoulder rather than damage to the bones themselves. The rotator cuff consists of a group of muscles and tendons that hold the bones of the shoulder joint together. When the rotator cuff is injured, a person may have pain and or difficulty lifting their arm overhead, throw or participate in sports.
Rotator cuff tears are the most common source of shoulder pain in an adult. Treating the problem depends on the severity of the tear, but typically involves a combination of rehab, oral medicines, activity modifications, and potentially even surgery. The surgeon will work with the patient to establish goals, expectations and determine how to best treat the patient. The patient, surgeon, and physical therapist are a team to resolve the shoulder injury.
Symptomatic labral tears are common injuries in younger patients, often associated with shoulder instability or overhead throwing. Treatment of the labral tear depends on the degree or level of instability. Much like a rotator cuff tear, treatment involves a combination of rehab, oral medicines, activity modifications, and potentially even surgery. The surgeon will work with the patient to establish goals, expectations and determine how to best treat the patient.
Arthritis is another common source of shoulder pain in adults. Arthritis may come from a variety of sources including degenerative processes, autoimmune diseases, and injury. The treatment of arthritis begins with oral medicines and activity modification. Ultimately, once pain has advanced to the point that patients have daily discomfort, difficulty sleeping, and begin to avoid activities of daily life, it is time to consider a joint replacement. Although less common for the typical orthopaedic surgeon, a shoulder and elbow specialist performs a high volume of joint replacement surgery and has the ability to not just address basic arthritis, but perform complex reconstructions, revisions, and even custom solutions when necessary. A standard shoulder replacement can be done in under 90 minutes, and even though most people stay one night – many can actually be done outpatient if that is their wish.
Fractures of the shoulder are also a very common with sports like bicycle riding, but can also be seen after falls and higher energy injuries. Many can be treated conservatively with guided rehabilitation. Displaced fractures may require surgical reduction and fixation, or even a full shoulder replacement.
Common Elbow problems
Tennis elbow (lateral epicondylitis) is the most common injury in patients seeking medical attention for elbow pain. It's estimated that at some point, tennis elbow affects nearly half of those who play racquet sports – but can also be seen in patients performing repetitive gripping or typing activities. Exactly what causes tennis elbow is unknown, but it is thought to be due to small tears of the tendons that attach forearm muscles to the arm bone at the elbow joint. The inflammation that results from this injury can prevent someone from hitting a tennis ball or gripping without pain. For a tennis player, tennis elbow can be career-ending. While surgery is rarely needed, treatment can involve special therapy and exercises that extend to six months or more. Physical and occupational play a significant role in the non-surgical treatment of upper extremity injuries, as success with therapy eliminates the need for surgical intervention. Ultimately, if resolution of the symptoms cannot be achieved with conservative management, a simple 10-15 minute elbow arthroscopy has a 95% chance of achieving a pain-free elbow.
Distal biceps ruptures are less frequent injuries, but can be quite disabling. Unfortunately, a distal biceps rupture in an active patient does require surgery to restore a pain free, functional elbow.
Elbow fractures are common after falls and higher energy injuries, similar to the shoulder. Many can be treated conservatively with guided rehabilitation – particularly radial head fractures. Displaced fractures may require surgical reduction and fixation.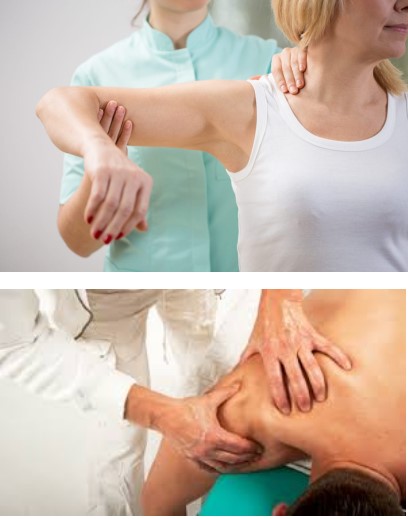 Rotator Cuff Repair (Arthroscopic)

This surgery repairs a tear of the rotator cuff in your shoulder. The rotator cuff is group of muscles and tendons. It holds the head of the humerus in the shoulder socket.

Elbow Bursitis

This is a swelling of a fluid-filled sac in the back of your elbow. This sac is called the "olecranon bursa." You have similar sacs near other large joints throughout your body. They act as cushions between your bones and your soft tissues. Normally they have a small amount of fluid inside them. But sometimes they can swell. That is called "bursitis."

Lateral Epicondylitis (Tennis Elbow)

This condition, commonly called tennis elbow, is an inflammation of the tendons that connect the muscles of the forearm to the elbow. The pain is primarily felt at the lateral epicondyle, the bony bump on the outer side of the elbow.